Australian Driver Trainers Association
Board meetings are convened on the second Friday of each month.
*This is subject to change surrounding public holidays and unforeseen events.
If you would like to add an item to the agenda for the next board meeting, please email [email protected]. You will be contacted directly after the item has been raised and discussed by the board.
Board and Meetings
The hardworking ADTA Board are your Representatives. These are voluntary positions, elected by ADTA members each for 2 year terms. Board meetings are convened monthly, with lots of work going on behind the scenes between meetings. Every board meeting, your elected representatives review Association finances, admit new members, and develop and review strategic plans. They are passionate about supporting members and advancing Driver Training.
Five board positions become vacant each year, 4 are elected at the Annual General Meeting and 1 is appointed by the board to fill any skill gaps (e.g. accounting or legal).
If you would like to serve on the board, watch out for the call for nominations, usually a month before the scheduled AGM. The board elects a President, Vice President and Treasurer at the first board meeting of a new term. These positions have extra responsibilities, and require an additional commitment of time effort and energy.
If you would like to add an item to the agenda for the next board meeting, please email (link to [email protected]). You will be contacted directly after the item has been raised and discussed by the board.
Meet the current ADTA Board.

Director – Dion Changuion, (Brisbane QLD)
Dion has 15 years' experience as a Company Director starting and running his own businesses. When his youngest daughter Jenna turned 16 and he was looking for a driving school, Dion's entrepreneurial nature led him to the Driving Industry in 2015 where he started Peak Driving School. Through training hundreds of students, meeting parents and talking to other driving instructors at the test centers, Dion discovered some of the challenges facing the learner driving industry, both as a driving school owner (with the lack of business systems to operate a driving school business), and for busy parents and students where the lack of transparency or ability to easily book driving lessons online, was very apparent, and so Dion founded the concept of YLOODrive in 2016.
YLOO - "You Live Only Once", resonates strongly with Dion's philosophy on life! Having experienced family loss through driver-distraction, Dion believes the time to make a difference in reducing road fatalities is now!

Director - Graham Jamieson, (North Coast NSW)
Graham has been working in the transport training industry since starting as the national safety and training officer for Chemtrans in the early 90's.
He began driver training in 1996 and became an assessor in 1997 in a system that was vastly different from today's. He brings a wealth of experience to the board and will endeavour to have the ADTA more involved in discussions with the Transport for NSW and other relevant stakeholders within the training and transport industry to create a better outcome for all concerned.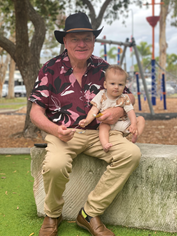 Director - Mick Humphries, (Gold Coast QLD)
Mick, having previously graced our board and notably served as the GM of the Association for five years, brings with him a wealth of knowledge accumulated over three decades in the industry.
He is the "Go To" for any industry related query. He deals heavily in the heavy vehicle space and works closely with RTO's in compliance and professional development for heavy vehicle instructors.
Mick's passion for many years has been all things transport. His presence on the board is to contribute to collectively achieving better industry outcomes for instructors statewide.