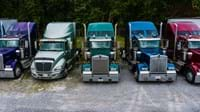 Heavy Vehicle |

Driving Instructors
Careers as a Heavy Vehicle Driver Trainer
Why become a truck driver trainer? Hear from professionals within the industry why they chose this as their career.
Examining Your Motives for Becoming a Driver Trainer
If you're interested in being a driver trainer, the big question you need to answer is, "Why do you want to do this?"
Do you want to train because it's a nice thing to do and you consider yourself to be a nice guy (or gal)? Then beware: you may meet some aggressive and not-so-nice trainees who will walk all over you. You will need to teach and guide with a firm hand.
Do you have a teaching background in which you've always taught just one way and you think you can apply your teaching skills to the driving arena? You may or may not make a good trainer because different people have different learning styles. You'll need to adapt your teaching methods to make sure that all of your students understand you. One size does not fit all.
Why do you want to be a driver trainer? What are your motives? Are you lonely, desiring companionship on the road, and figure that being a driver trainer will fill that emotional or social need? Then be mindful that there are some people who don't work well with others. You might be best served by having a pet.
Are you thorough in your work? Be aware that some trainees are willing to take shortcuts to try to shorten their training periods. They may find the "formality" of training something to endure, not realizing that training is a golden opportunity to glean as much knowledge as possible from the trainer.
If you want to be a trainer because the industry has been good to you and you want to give back in the form of better, safer drivers, that is an excellent motive.
If you want to become a driver trainer because somebody has seen your excellent knowledge of the industry, you are a good safe driver and someone has told you that you would be an asset to the training team, that's an even better reason.
Still interested? These pages contain all the information you need to start your exciting new journey into Driver Training!