---
---
A.B.N 36 651 057 526
Owing to my retirement from the industry the business name DRIVER TRAINING PLUS along with web domains drivertrainingplus.com.au and drivertrainingplus.au are now available for sale.
Also available is a substantial Load Restraint Power Point training program with supporting load restraint equipment. I also have a similar fully supported 4WD program available.
Anyone who may be interested should direct their enquiries by email to [email protected] (attention George)

---
DriverZed - Whitsundays
I am reaching out in urgency to my fellow instructors to inform you that DriverZed driving school is For Urgent Sale in the Whitsundays Region. Perhaps you have thought of expanding or know of someone that would love this opportunity. Please feel free to share, thank you in advance.
You can own a cost effective, sustainable and efficient business in the Whitsundays whilst finding fulfillment in your career. Established for over 15 years with no commercial lease needed, this business offers an excellent Return On Investment with plenty of room for growth in a stable, fast-growing industry and location.
A profitable turnkey opportunity awaits you with a balanced lifestyle, the ability to control your own flexible week and no weekends or staff necessary. This driving school is ideal for anyone who has a passion for teaching or helping others and has an Open Australian Licence with clear English-speaking skills.
Your weekends will be filled with music and events in Airlie Beach, a walk in the rainforest, a drive in the country, or perhaps fishing and exploring the Great Barrier Reef and Whitsunday Islands. With a friendly community it won't take long to feel right at home
Due to the urgency to sell this year, the owner is offering vendor finance. With paid training you can begin this week. Reach out today for more information.
DriverZed – Whitsundays Region
Contact Candi
0497 655 515 www.driverzed.com.au

---
2020 manual Toyota Corolla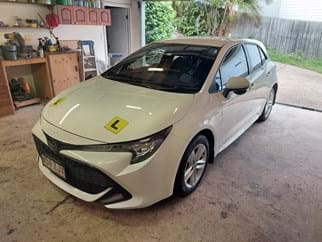 147,500KM
Consistently serviced by Toyota
New clutch and front tyres
Rear tyres in very good condition
New battery
Cable dual controls.
Always garaged and immaculately maintained
Registered in QLD until 27th of February
Price$17,000
Contact Mark Pickup
P 0428 992 227 E [email protected]
2012 Toyota Yaris YR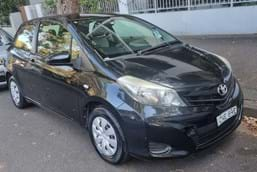 The Driving Change Program is selling a 2012 Toyota Yaris YR.
3 door hatchback
Manual transmission
Dual controls are fitted with brake, accelerator and clutch. The accelerator can be disengaged if needed.
The vehicle has done only 48,115km and has been well maintained with annual servicing and regular maintenance.
ANCAP rating of the vehicle 5 stars
State registered and current registration number of the vehicle NSW, CNE89E
State / location the vehicle is physically located Waterloo, NSW
Price of vehicle stating if GST is inclusive $9000 plus GST
Contact Leanne Green
P 04815 651 17 E [email protected]
Instructor Vehicles for Hire
Driver Assessment & Rehabilitation - Driver Health
Course Description:
This course provides training for driving instructors who wish to specialise in the rehabilitation of drivers with medical conditions, disabilities and injuries. Driving instructors often work in this area with occupational therapy driver assessors. Driver rehabilitation programs involve teaching drivers with cognitive difficulties (e.g., due to a stroke or brain injury), physical impairments (e.g., due to loss or paralysis of a limb), vision impairments (e.g., due to loss of vision in one eye), anxiety, and mental health conditions.
Topics Presented:
The driver rehabilitation team and process
Common physical, cognitive and vision impairments and implications for driving
Ageing, mental illness, and anxiety and driving
Licensing policies and procedures for drivers with medical conditions
Working with occupational therapists in on-road assessment of drivers with impairments
Teaching methods/remediation for specific impairments (e.g., Autism, brain injury, vision loss, learning difficulties, etc.)
Vehicle ergonomics/pain management
Working with NDIS participants
Suitable For:
Attendees must be qualified driving instructors
Course Delivery:
This is a 2-day information course. A certificate is provided on completion. There are no assessments.
The course is offered:
Instructors Wanted - Gold Town Driving School
---
Current instructors are under increased demands and we are looking for a full time or part time instructor for manual and automatic cars for Goldtown Driving School in the Gympie region (2hrs north of Brisbane).
We offer:
Digital diary with your own flexibility for work hours
Weekly pay with a choice of employee or subcontractor status (superannuation paid for both).
Manual and Automatic cars available for use
You will need:
QLD instructor accreditations (licence + Blue Card) with appropriate PI insurance
Excellent communication skills
A good sense of humour.
A passion for teaching.
A willingness to learn and improve your own teaching skills.
Work in well with other instructors (team player).
If interested, please contact us via email
Heavy Vehicle Trainer and Assessor (Wagga Wagga)

Mick Humphries Training Group are seeking an experienced and qualified Trainer/Assessor to join our passionate and professional team. If you have a passion for the heavy vehicle industry and can demonstrate experienced training with auto, synchro and road ranger gearboxes, this is the job for you.
You will be an experienced and licensed HV trainer and assessor (preferably up to MC) and will have or be prepared to obtain a National Criminal History Check.
Essential
Current TAE40116 Certificate IV in Training and Assessment
TLI41318 Certificate IV in Transport and Logistics (Road Transport - Heavy Vehicle Driving Instruction)
About Us
MHTG is based in the NSW city of Wagga Wagga and has been transformed into a specialised provider of training & assessing in the transport, construction and resources industry. MHTG tailors training specifically for those requiring Nationally Recognised & certified High Risk licence training.
We provide flexible high quality training to ensure that our clients are job-ready to industry standards. We pride ourselves on training clients to understand and operate trucks to the highest possible standard, not merely to obtain a licence. Instructing operators in Safety is an MHTG priority.
About the Role
As a member of a dedicated team, this role will see you deliver the best possible heavy vehicle training to assist people in achieving their goals. You will share your knowledge and expertise to ensure that the learning experience is enjoyable and rewarding.
Some specific responsibilities will include:
Providing quality driver education to all clients in a one on one and group setting.
Conducting Heavy Vehicle Competency Based Assessments (HVCBA), ensuring compliance and professional driving standards.
Conducting classroom presentations on topics such as filling out a work diary, correct operation of a road ranger gearbox etc as required.
Where required, assist with the cleaning of our vehicles, ensuring that they are in road worthy condition.
We are looking for the right fit to our team and will accept applications for full time, part-time or casual work.
To apply today, email your resume, CV and relevant Certificates to [email protected]
Jaydee Driving School

Due to an increase in demand, Jay Dee Driving Pty Ltd is looking to expand. As a newly appointed part time driving instructor for Jay Dee Driving, we offer the following:
Fully automated digital diary with your own access for flexibility
Weekly pay cycle (including superannuation)
Dedicated call centre to answer all phone calls
Choose your own hours of work – flexibility
Great rates with superannuation
You will need:
NSW Driver Training accreditation for automatic vehicles with appropriate insurances;
Good communication skills;
Your own 5 star ANCAP dual controlled vehicle less than 5 years old;
ABN;
Working with Children check clearance;
A good sense of humour and a passion for the Driver Trainer industry.
Jay Dee Driving Pty Ltd operates within The Hills and Blacktown areas in NSW.
As an independent contractor to Jay Dee Driving, you can choose your own hours of availability!
Part-time hours: 10-30 per week - Job Types: Part-time, Subcontract - Salary: $50.00 – $54.00 per hour + superannuation.
If this sounds like you, please contact Jay Dee Driving via email [email protected]
COVID-19 considerations:
All Covid vaccinations required.
Coastwide

Coastwide Driving - New operating model, give us a call today!
- Regional Queensland including Sunshine Coast, Hervey Bay Region, Rockhampton / Yeppoon region
- Greater Brisbane including Ipswich, Logan, Redlands & Moreton Bay region
☎️ Add our customer service team to your driving school
🚗 You keep your customers, we do your admin, customer service, marketing etc
⛵️✈️ Unlock your free time
❤️ Put the joy back in to your workday
ℹ️ For more info, check us out here: https://www.youtube.com/watch?v=fhmVV43yXtE
Contact us for a confidential chat or coffee ☕️ E [email protected] or P Glen on 0401 166 831
Rightway
---

Rightway Driving - New operating model, give us a call today!
Gold Coast and Northern NSW
☎️ Add our customer service team to your driving school
🚗 You keep your customers, we do your admin, customer service, marketing etc
⛵️✈️ Unlock your free time
❤️ Put the joy back in to your workday
ℹ️ For more info, check us out here https://www.youtube.com/watch?v=fhmVV43yXtE
Contact us for a confidential chat or coffee☕️ E [email protected] or P Glen on 0401 166 831
National

National Driving Academy - New operating model, give us a call today!
Canberra and Queanbeyan
☎️ Add our customer service team to your driving school
🚗 You keep your customers, we do your admin, customer service, marketing etc
⛵️✈️ Unlock your free time
❤️ Put the joy back in to your workday
ℹ️ Fore more info, check us out here: https://www.youtube.com/watch?v=fhmVV43yXtE
Contact us for a confidential chat or coffee ☕️ E [email protected] or P Glen on 0401 166 831
---
TfNSW approved Safer Drivers Course Providers (NSW Only)

Youthsafe will be holding the next training sessions for Safer Drivers Course facilitators and coaches at the Ryde Eastwood Leagues Club. For more info on upcoming courses, contact:
W www.youthsafe.org E [email protected]

Ascent Training will be holding the next training sessions for the Safer Driver course facilitators and Coaches in Parramatta. For more info on upcoming courses, contact:
W www.ascenttrainingservices.com.au
P 02 62108765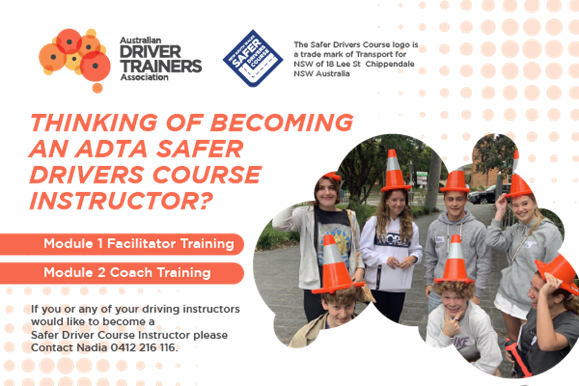 ---
---
Advertising with the ADTA

---
Advertising Vehicles for sale
Full details of the vehicle (including K's)
ANCAP rating of the vehicle
State registered and current registration number of the vehicle
State / location the vehicle is physically located
1 photo
Price of vehicle stating if GST is inclusive
Contact details of seller
Pricing
Members - FREE & Non Members $44.00 for 1 month
Advertising Job Opportunities
Can include photo / logo
Suburb / Town
State / location of company
Any other details you would like included
Contact details of advertiser
Pricing
Members - FREE & Non Members $44.00 for 1 month
Commercial Advertisements
Product details
State / location of company
Seller contact details
Website info (if desired)
If designing graphically, please use following dimensions:
600 pixels wide, 400 pixels high
72 dpi resolution
PNG file type
Pricing
One off - $44.00 & Annual - $550.00